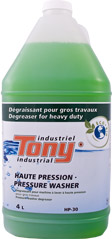 TONY HEAVY DUTY Degreasing Pressure Wash
There isn't a more efficient high-pressure soap for removing grease and oil residue from motors. Also works on asphalt surfaces, driveways, concrete or cobblestone sidewalks or BBQ grills. Phosphate-free and biodegradable as per OECD test 301D.
Directions:
Put high pressure cleaning tube directly into cleaner. Leave on surface for 1-3 minutes. Rinse.