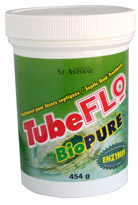 TubeFlo BioPURE Septic Tank Treatment
BioPURE TubeFlo is a blend of bacterial cultures and enzymes specifically chosen for their ability to dissolve oils, animal and plant fats and other organic material found in septic tanks, grease traps and chemical toilets. Contains no chemical additives and is safe for humans, animals and the environment.
Directions :
For a 2500 L capacity tank, pour 40 to 80 grams of the product into a conduit. Repeat every 2-4 weeks.
Grease traps and chemical toilets: 10 L capacity, use 40 g to 80 g. Repeat every week. Do not use with other chemicals.
| | |
| --- | --- |
| CODES | SIZES |
| EZM-454 | 454 g |