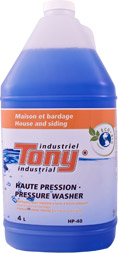 TONY HOME AND SIDING Pressure Cleaner
Designed for high pressure use, this product efficiently removes tough dirt and grime from exterior surfaces and painted wood. Also works on gutters, awnings and patio furniture. Safe for flower beds, flowers and shrubs. Phosphate-free and biodegradable as per OECD test 301D.
Directions:
Put the high pressure cleaning tube directly into cleaner. Leave on surface for 1-3 minutes. Rinse.