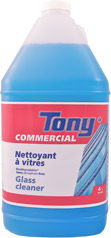 TONY COMMERCIAL Glass Cleaner
Ideal for cleaning windows, mirrors, chrome, porcelain and other hard surfaces. Economical, because only a small amount is necessary. Doesn't leave streaks. Biodegradable as per OECD or equivalent testing.
Directions:
Regular cleaning: Dilute 50 ml per litre of water. Spray and wipe with cloth or squeegee.
Big jobs: Use product in concentrated form.