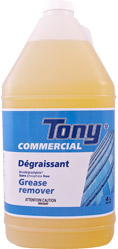 TONY COMMERCIAL Degreasing Cleaner
Ideal for degreasing plastic and rubber. Removes oil and grease stains from paving stones or concrete. Removes black streaks and deposit marks from boats, vehicles and vinyl surfaces. Its concentrated formula works on the toughest dirt. Phosphate-free and biodegradable as per OECD or equivalent testing.
Citrus scent.
Directions:
Regular dilution: 150 ml per litre of water.
Dilution for big jobs: 300 ml per litre of water or can be used concentrated for heavily soiled surfaces.