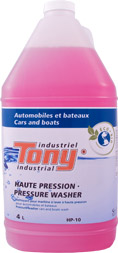 TONY CAR AND BOAT Pressure Wash
This easy-to-use soap removes tough stains without damaging delicate surfaces. Perfect for any motor vehicle, campers, boats and commercial vehicles. Goes on smoothly and makes all surfaces shine. Phosphate-free and biodegradable as per OECD test 301D.
Directions :
Put high-pressure tube directly into cleaner. Spray and leave on surface for 1-3 minutes. Rinse.